WOWair Iceland – Cheap flights to Reykjavik
WOWair, Iceland's low-cost airline, offers cheap flights between Iceland and 28 European and North American cities. Flights to Iceland take you directly to Keflavik International Airport (KEF) where you have a number of options to start your vacation right. A 5 to 10 minute drive from Keflavik airport will take you to Raven's BnB, a quaint and cozy bed and breakfast situated in a converted byre. This is the ideal place to relax from your flight, and start planning your vacation in Iceland. The delightful owners of Raven's BnB are happy to give you all the information on Iceland's must-sees. The guesthouse is also a great place to end your vacation; its proximity to Keflavik Airport makes it a wonderful accommodation to spend your last night in Iceland. If you plan to stay here between September and March you might even see the Northern Lights dancing across the night sky.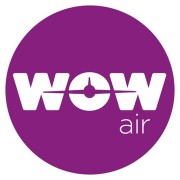 AMSTERDAM – BARCELONA – BERLIN – COPENHAGEN – DUBLIN – FRANKFURT – LONDON – LOS ANGELES – MILANO – NICE – PARIS – ROME – SALZBURG – SAN FRANCISCO – STOCKHOLM – TENERIFE – TORONTO – VILNIUS – WARSAW – WASHINGTON
WOWair flights to Keflavik Airport (close to Reykjavik)
Once you arrive at Keflavik airport with your WOWair Iceland flight you can also choose to take a bus to Reykjavik in about 45 minutes. While the city itself has much to offer, Reykjavik is also the starting point of the Golden Circle Tour that takes you to four of Iceland's most famous attractions in only a day; Kerið volcanic crater lake, the erupting Strokkur Geyser, the Gullfoss Waterfall and National Park Þingvellir.
Should you decide to stay at Raven's BnB, only 5 to 10 minutes by car from Keflavik Airport, you can also visit the Blue Lagoon geothermal spa. The Blue Lagoon is only a 15-minute drive away from Raven's Bnb and is a truly wonderful experience. You can book your cheap WOW air Iceland flight easily on Wowair.com.
Check rates and availability of Raven's Bed & Breakfast below!